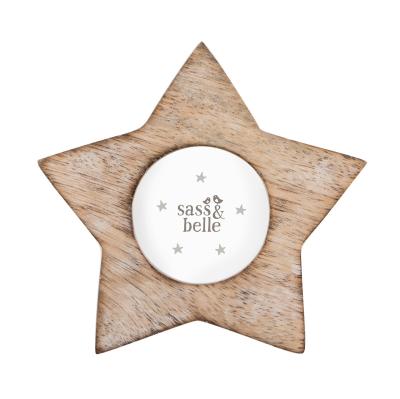 Price:

25% OFF

£5.62
reduced from £7.50

Add to basket:
Lovely wooden frame in the shape of a star.

Dimensions - 11 x 11 x 1.5cm
Material - Mango Wood, Glass
Colour - Brown/Beige
More Like This One
We love a terrarium's ability to bring the outdoors in. This season we are pleased to introduce a new range of terrariums that come in geometric shapes and luxe metallic finishes. This pyramid terrarium is a lovely item that will work in a ...

Follow a dream of muted tones and earthy pastels with this set of three suitcases. With the smaller fitting in the larger and featuring a gorgeous repeat pattern of little stars, this home accessory will look brilliant stacked or standing.

Luxurious antique woven board

Size: 100mm (w) x 147mm (h)

Single card with envelope

This 'Nordic Star' set of 3 suitcases are from Sass and Belle. They are grey with white stars and fit inside each other. Perfect storage for a kids room to tidy away all those precious little things or for a work room. Also good for a fe...