Jellycat Bashful Blush Snow Bunny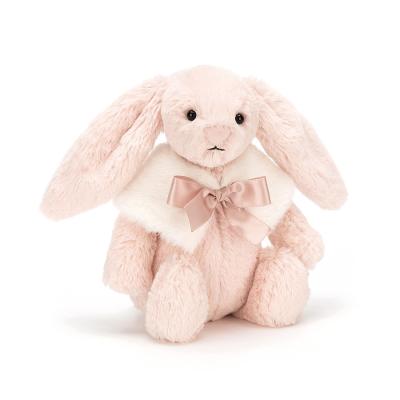 Price:

£

13.00
Awaiting stock
Shy and sweet, Bashful Blush Snow Bunny is such a pink poppet. This lop-eared love is bundled up warm for any wintry storm! Snuggled in a creamy fluffy ribbon capelet, our bun is ready for a sleigh ride! With a pink suedey nose and snuggle-soft ears, this little one is a pal for all seasons.

SAFETY & CARE
Tested to and passes the European Safety Standard for toys: EN71 parts 1, 2 & 3, for all ages.
Suitable from birth.
Made from 100% polyester.
Hand wash only; do not tumble dry, dry clean or iron. Not recommended to clean in a washing machine.
Check all labels upon arrival of purchase.
More Like This One
Bashful Cream Snow Bunny can't wait to skate, with those long creamy ears flying out behind! Wearing a cosy pink cape with satin ribbon, this buttercream cutie is a winter wonderbun! Squat and tubby with long, lop ears, Bunny's melting hear...

With the softest cinnamon coloured fur body, classic bashful bunny long ears and delicate pink nose this new bashful is going to be so popular, cute beyond cute and coming in the such a warm, happy colour!

Full of silly, citrussy fun, it's Bashful Lemon Bunny! Sweet as pie, with long, lopsy ears, this cuddly bunny is so dreamy-soft. Fond of snuggles and plenty of giggles, this cuddly chum is a friend to all. Have a bobtail ball and take Bunny...

Bashful Beige Bunny is a popular fellow with scrummy-soft Jellycat fur and lovely long flopsy ears mean that with just one cuddle, you'll never want to let go. Irresistibly cute and a perfect gift for boys or girls. Everyone treasures this ...