'Lavender and Poppy Seed' Hand Made Soap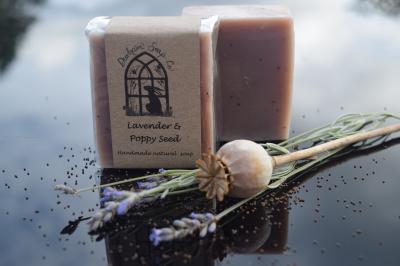 Price:

£

5.00

Add to basket:
'Lavender and Poppy Seed' scented soap from The Durham Soap Company


Natural soap, handmade with a blend of pure plant oils, enriched with moisturising shea butter, cocoa butter and castor oil for a rich and creamy lather. Our soap is fragranced with pure lavender essential oil, known for its calming properties and is infused with a sprinkling of ground poppy seeds to give your skin the gentlest scrub.
Ingredients: Olive oil, coconut oil, sunflower oil, shea butter, cocoa butter, water, glycerin, castor oil, lavender oil, poppy seeds), Vitamin E, alkanet root extract, limonene*, linalool*, * = occurs naturally in essential oils.
Net weight: 100 g
Durham Soap testimony
'We use no artificial perfume, colour or preservatives. All of our products are free of palm oil and are cruelty free and vegetarian; most are vegan friendly, too. Our soaps are wrapped in fully biodegradable, plant derived cellophane with an unbleached, recycled, brown paper cigar band to minimise waste and harm to the environment.'